Learn how to set up and use Spotlight on your iOS device to find items you have saved in 1Password.
Set up Spotlight
Before you can use Spotlight to find 1Password items, you'll need to enable it in the 1Password app:
Open and unlock 1Password.
Tap Settings > General.
Tap to turn on Spotlight Search.
From now on, you'll be able to search for 1Password items without even opening the 1Password app.
Use Spotlight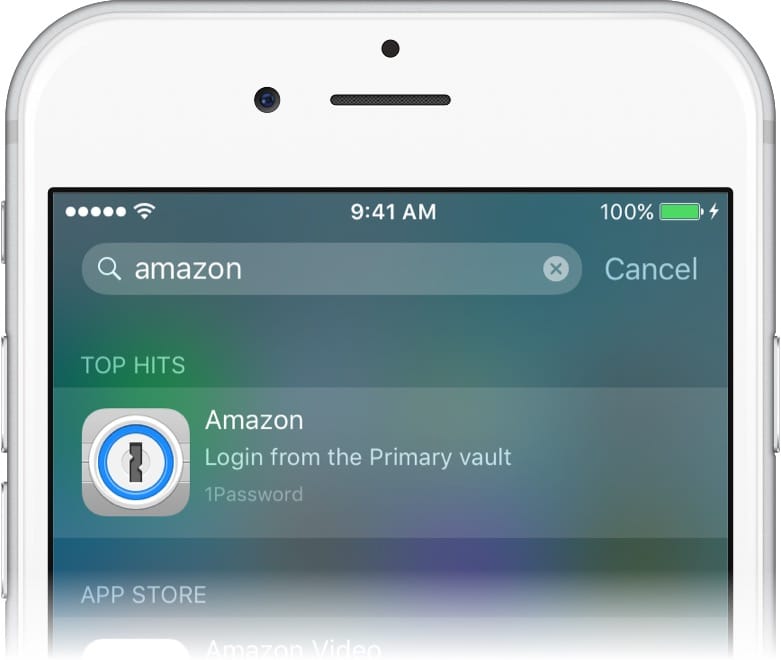 There are two ways to use Spotlight to search 1Password on your iOS device:
Drag down from the middle of the Home screen.
Drag right from the Home screen to show Search and Siri Suggestions.
Then enter the name of the 1Password item you're looking for. When you find the item you need, tap it to open it in 1Password.
Get help
Sometimes, it may take a few minutes for 1Password items to appear in Spotlight searches.
If you set up Spotlight more than a few minutes ago, and you still aren't seeing 1Password items, follow these steps. Try again after each step:
Open the Settings app and tap Siri & Search. Scroll down and select 1Password, then tap Siri & Suggestions.
Restart your iOS device.
For your protection, 1Password limits Spotlight to item names. Open 1Password to search for usernames, tags, or other fields.
Using Spotlight to search 1Password requires iOS 9 or later, but it is not available on iPhone 4s, iPad 2, iPad (3rd generation), iPad mini (1st generation), or iPod touch (5th generation).
Learn more