Learn how to pay for a 1Password membership with a gift card you bought yourself or received from someone else.
When you redeem a
1Password Gift Card
, the amount on the card is added to your 1Password membership as a credit. The credit is used to pay for your subscription before any credit card you may have on file is charged.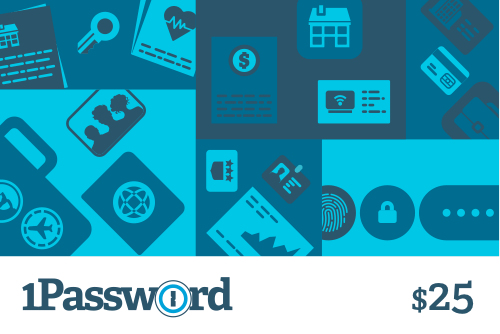 Redeem a gift card
When you receive a 1Password Gift Card, the email will include a 26-character code. You need the code, which starts with GC, to redeem your card.
To redeem a gift card when you're signing up for 1Password:
Click "Redeem a gift card" when you're asked to add a card.
Enter the gift card code and click Redeem.
Enter your address, then click Subscribe and Create Account.
To redeem a gift card in a 1Password account you already have:
Sign in to your account on 1Password.com.
Click Billing in the sidebar, then click Redeem Gift Card.
Enter your address and the gift card code.

If you don't have an active subscription, you'll also need to choose monthly or annual billing.

Click Redeem Gift Card.

Or click Subscribe.
If you're having trouble redeeming a gift card, contact 1Password Support.
About gift cards
1Password Gift Cards:
can only be redeemed once. The full amount is added to your account as a credit and can't be moved to another account.
can only be redeemed for accounts on 1Password.com. They can't be redeemed for accounts on 1Password.ca or 1Password.eu.
If your account credit is insufficient to cover another billing period, your credit card will be charged if you have one on file. Otherwise, you'll need to redeem another gift card to keep your account active.
Learn more