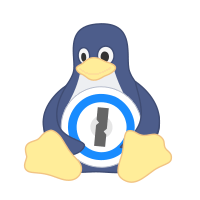 You will need to download a 1Password 4 installer for Windows to your Linux device, and install Wine or have it installed already. In addition, you will need a means of synchronizing your vaults across the different devices which you use. The Wi‑Fi sync option in 1Password for Windows requires Bonjour for Windows, which may increase the complexity of your installation. Dropbox is available for Android, iOS, Linux and macOS and will be used in this article as an example.
Downloading 1Password 4 for Windows
The 1Password installer for Microsoft Windows may be used to install and execute 1Password 4 for Windows (standalone version) on x86-based Linux platforms. Save the Microsoft Windows installer file to your Linux machine. The file name will depend on the version of 1Password for Windows when you perform the download.
Installing Wine
Installation of Wine differs between Linux distributions. The Wine downloads page provides a list of packages with the option to install the latest stable or development release. You may verify your installation of Wine by executing the command wine cmd.exe from the Linux command line in your home directory. You will see a command line prompt and may execute a limited number of commands. Once you have verified that Wine is properly installed, enter the EXIT command and you will be returned to your Linux command line prompt.
Installing 1Password for Windows version 4.6
Once you have installed Wine on your Linux system, you will need to pass the name of the downloaded .exe installer file to the wine command. This will launch the installer application on your desktop and you will then install 1Password for Windows in the usual fashion. If you saved the installer in the file /tmp/1Password-4.6.0.592.exe, the wine command will be wine /tmp/1Password-4.6.0.592.exe.
Wine is fairly "noisy" and you may see a number of informational messages during the installation. The default installation options should be sufficient. When the installation has completed, you will have an icon labeled 1Password 4 on your desktop. You may also start 1Password with the shell command:
wine "C:\Program Files (x86)\1Password 4\1Password.exe"
or:
wine "C:\Program Files\1Password 4\1Password.exe"
depending on where Wine installed 1Password. Once installed, 1Password for Windows will periodically check for new versions which you may install from the 1Password application.
Browser helper
The 1Password for Windows browser helper is installed in the 1Password directory as the command Agile1pAgent.exe. If you choose to enable Chrome or Firefox browser integration you will need to execute the browser agent as well. Assuming 1Password for Windows was installed in /Program Files (x86)/1Password 4, the Wine command is:
wine "C:\Program Files (x86)\1Password 4\Agile1pAgent.exe"
You will need to disable browser code signature checking by navigating to Help > Advanced and unchecking the Verify web browser code signature option.
Installing Dropbox
Dropbox provides an installation page which lists packages for Ubuntu, Fedora, Debian, as well as an option to compile the Dropbox installer from source code. As noted on that page, this will install a helper program which in turn installs the actual Dropbox application.
Before installing Dropbox on your Linux system you should create a Dropbox account on their home page if you don't have one already.
Reporting bugs
The instructions contained in this document are not supported by AgileBits. They are provided AS-IS.
There is no support for 1Password for Windows being used on Linux systems. If you encounter a problem with 1Password for Windows while using it with Wine, you will need to recreate the problem using a Microsoft Windows system. Problems which are not recreatable under Microsoft Windows will need to be reported to the Wine project for resolution. Problems which can be recreated should be reported to us with the Windows operating system version used to recreate the problem.
Known issues
1Password for Windows was tested using Wine 1.6.0 and 1.7.25 on Ubuntu Linux 14.04LTS. Both versions of Wine resulted in periodic "hangs" which required killing the 1Password application. Typically a single login could be used or updated, and 1Password closed without causing a "hang".

Deleting the last note in a list will cause 1Password to exit unexpectedly. This is a Wine bug, as the issue is not present in Microsoft Windows.

To enable the 1Password classic extension, Verify web browser code signature must be disabled.

The 1Password Helper (Agile1pAgent.exe) must be started to use browser integration. It is possible to automate this:

Create a new file in ~/.config/autostart called, for example, 1passwordhelper.desktop. Open this newly created file and paste the following:

 [Desktop Entry]
 Name=1Password Browser Helper
 GenericName=1Password Browser Helper
 Comment=Allows the browser plugin to interact with the 1Password database
 Exec=env WINEPREFIX="/home/YOURUSERNAME/.wine" wine "/home/YOURUSERNAME/.wine/drive_c/Program Files (x86)/1Password 4/Agile1pAgent.exe"
 Type=Application
 StartupNotify=true
 Path=/home/YOURUSERNAME/.wine/drive_c/Program Files (x86)/1Password 4
 Icon=C775_1Password.0
 StartupWMClass=Agile1pAgent.exe


Replace YOURUSERNAME with your actual username, make sure all the paths are correct if you changed anything from the default Wine installation, and then restart.
(Hat tip to JohnHeroHD for this tip!)