Learn how to create new vaults to organize your information and give other people access to items they need.
Create and share vaults on 1Password.com
You can use vaults to organize your items and share with others. Sign in to your account on 1Password.com to get started.
Create a vault
To create a vault, click New Vault on your Home page and give your vault a name. You can also enter a description and choose an icon. When you're done, click Create Vault.
Your new vault will appear on all your devices.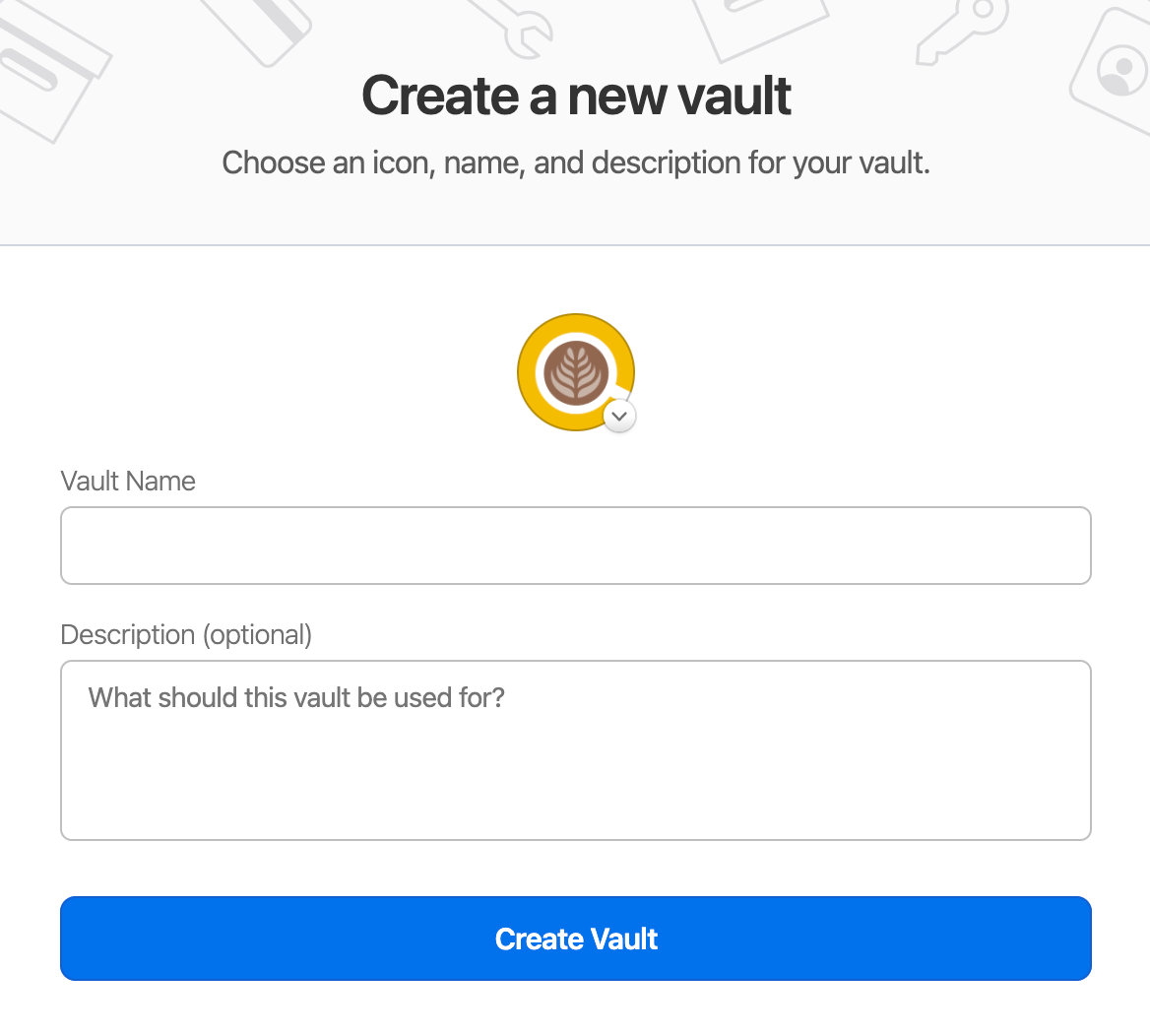 Share a vault
Before you can share a vault with anyone, you'll need to upgrade to 1Password Families.
Then you can choose to share vaults you've created by inviting your family. You can also share a vault with existing family members.
To share a vault:
Click Vaults in the sidebar, then click the name of the vault you want to share.
Click Share Vault, then enter the email address of a family member you want to invite.

If you want to share with an existing family member, enter their name.

Select the email address of your family member in the dropdown menu.

If you want to share with an existing family member, select their name in the dropdown menu.

Repeat the previous steps for each person you want to share the vault with, then click Save.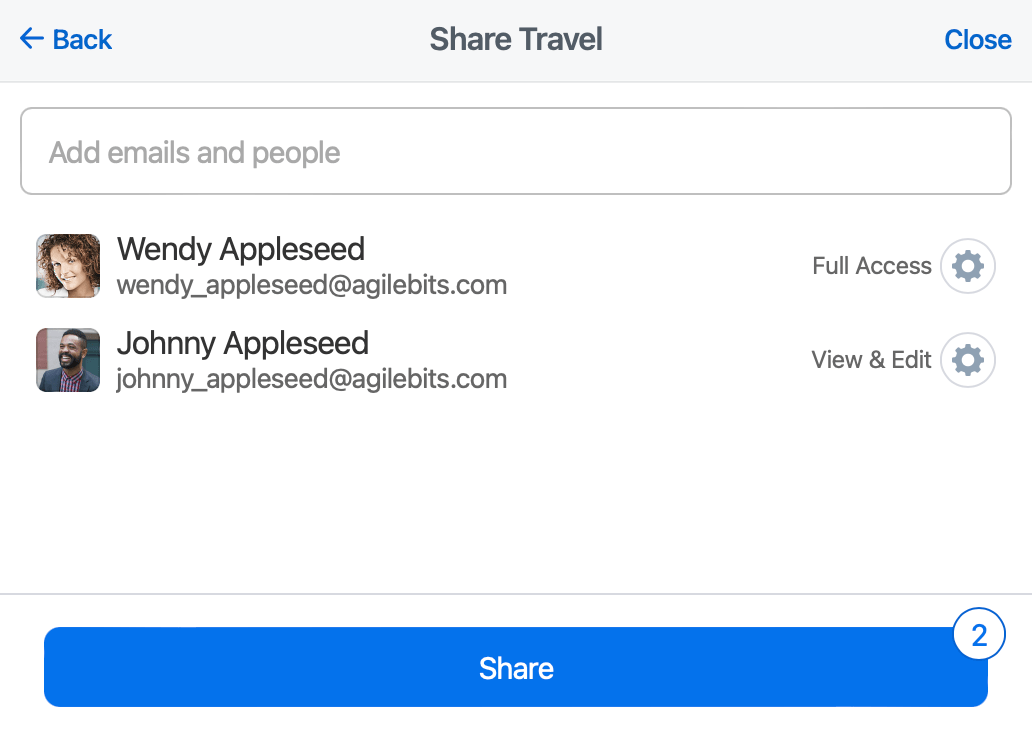 After you've shared the vault, any new family members must accept their invitations and be confirmed before they can access it. Existing family members can view and edit items in the vault immediately.
Manage access
Everyone with access to a vault can view, print, and copy the items in it. When you first share a vault with someone, they can also create, edit, archive, and delete the items in it.
If you allow someone to manage a vault, they can change the vault's name and description, or delete the vault.
To change someone's access to a vault, click to the right of their name.
Edit a vault
To change a vault's name or description, click Edit Details. Enter a new name or description, then click Save.
To permanently remove a vault and all its items from your account and your devices, click More Actions > Delete Vault.
When you delete a shared vault, it will also be removed from the devices of everyone you were sharing it with. The built-in Personal or Private vault can't be renamed or deleted.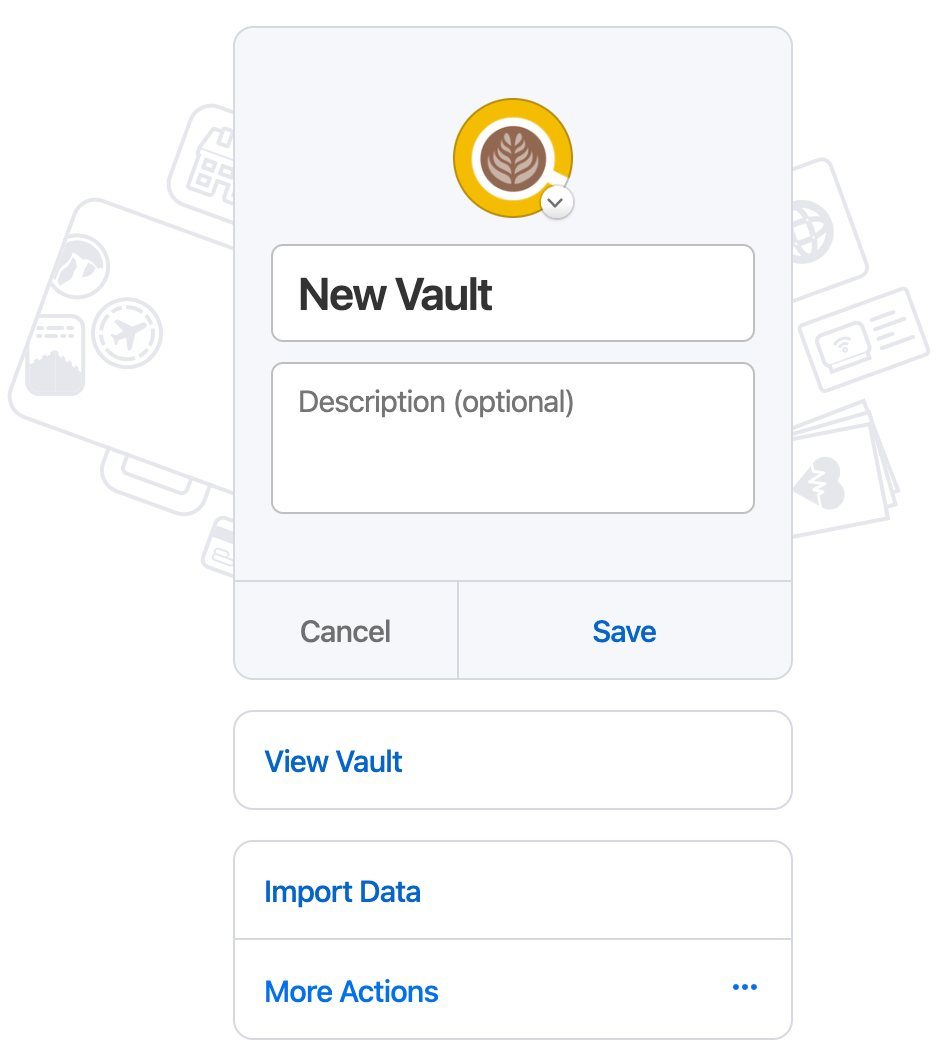 Create and share vaults in the 1Password app
Get help
If you need to share an item with someone you don't share a vault with or who doesn't use 1Password, learn how to securely share an item with anyone.
Learn more