Learn how to view a list of everyone in your company affected by data breaches.
With 1Password Teams and 1Password Business, you can create a report to see if anyone with a company email address has been affected by a data breach. Information about data breaches comes from the haveibeenpwned.com domain search database.
An account owner will need to set up the breach report and verify a domain, then anyone in the Security group can view it.
To get started, sign in to your account on 1Password.com.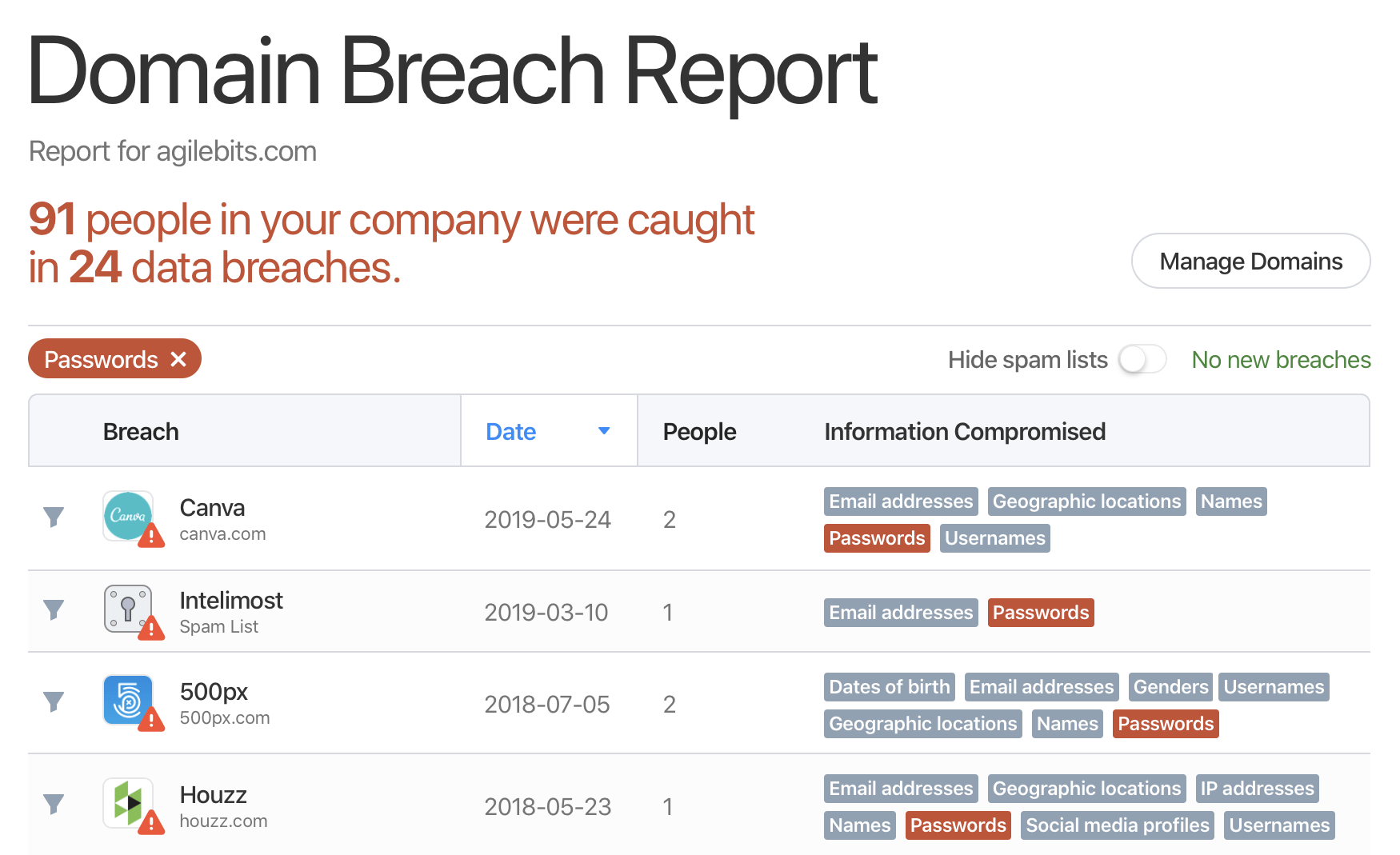 Set up the domain breach report
Before you can find email addresses affected by data breaches, you'll need to verify that you control a domain.
Verify a domain
Click Insights in the sidebar in 1Password Business or Dashboard in 1Password Teams. Then click "Verify your domain" in the "Breach checks" section. Click Get Started and follow the onscreen instructions. You can verify your domain by using:
Email: choose an administrative email address to send a verification code to, then click Send Verification Code. Enter the code and click Verify.
DNS record: add a DNS text (TXT) record containing the verification string to the domain you want to verify. Create the record at the root (@). Then click Verify.

It may take up to 24 hours for DNS changes to propagate. To verify your domain later, go to the domain breach report, click Manage Domains, then click Complete Verification. If you need help, check with your DNS provider.
Manage verified domains
To include more than one domain in the report, click Manage Domains > Add Domain, then verify it.
To mark one domain as an alias of another, click next to the domain and choose Mark as Alias. Choose the domain you want to make it an alias of, then click Save.
To remove a domain, click next to it and choose Remove.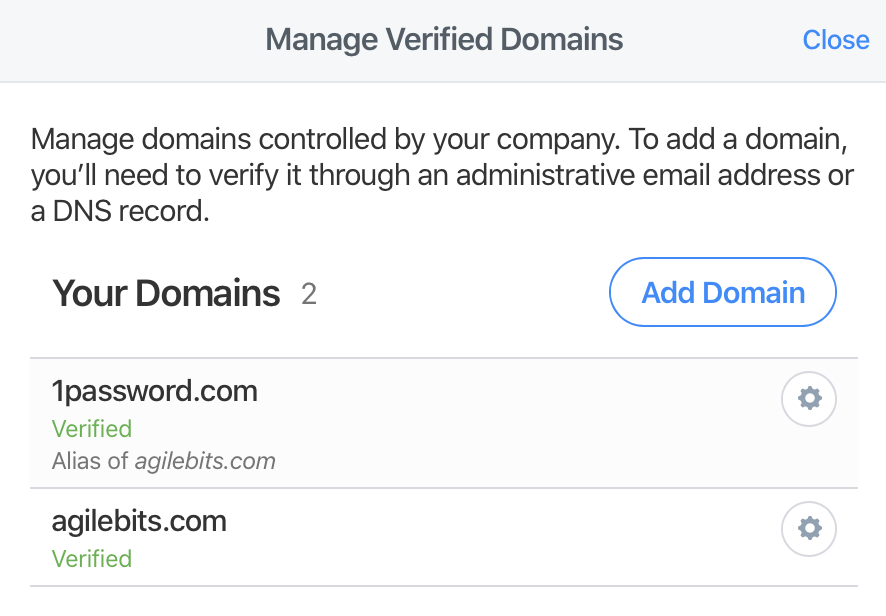 View the domain breach report
After you verify your first domain, you can review the breach report for it. Click Reports in the sidebar, then click View Report in the Breach Report section.
If you're using 1Password Teams, click "Review data breaches" or "Review emails" in the "Breach checks" section on your dashboard.
To see everyone affected by a specific breach, click beside it.
To see which accounts are vulnerable for a specific email address, click its breach details.
To sort or filter the list of breaches, click a header or one of the information compromised tags in your report.
To filter the list by the status of your team members, click "Filter by" in the top-left and choose your preferred filter.
To hide collections of personal information that may not have come from a data breach, turn on "Hide spam lists".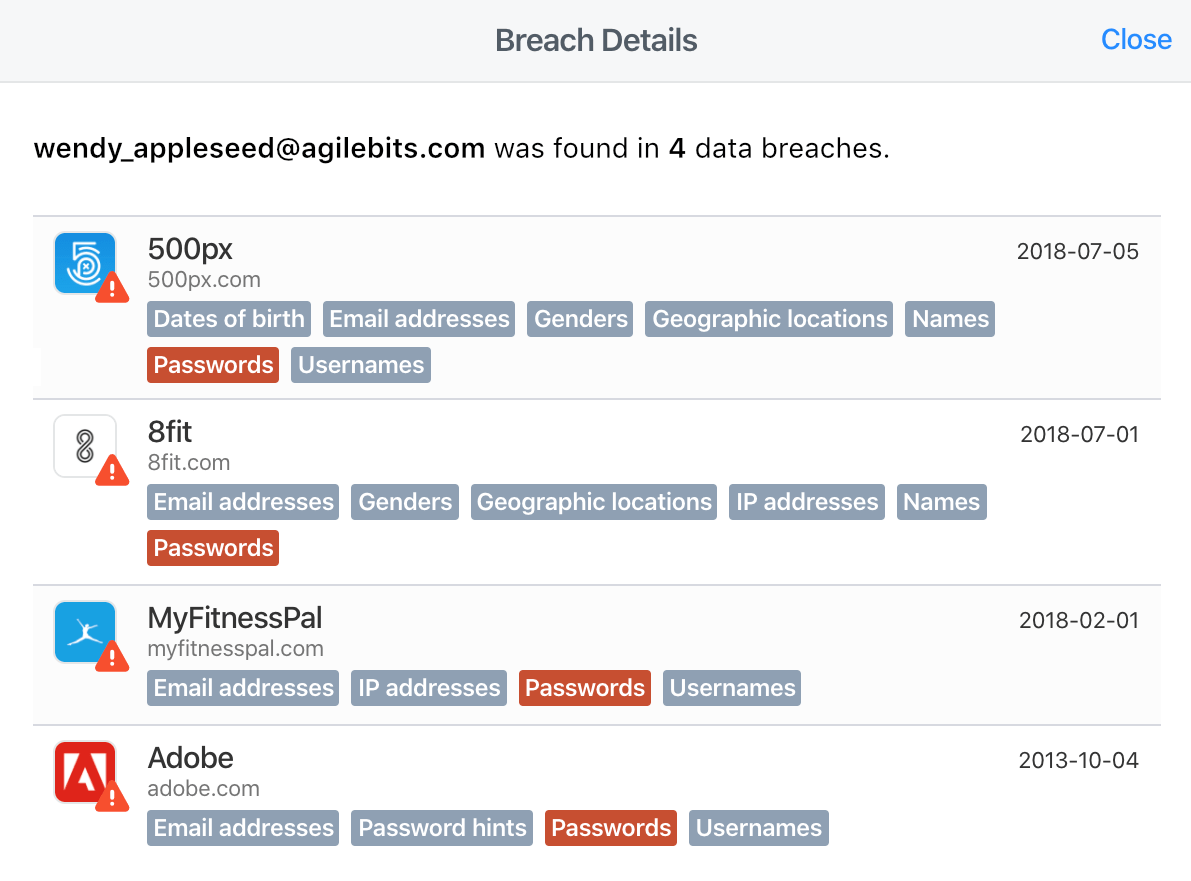 Notify people affected by a data breach
If your company is affected by a data breach, click Notify Your Team to send an automated email to the affected team members and invite anyone not using 1Password to join your team.
The affected people should:
Join your team on 1Password if they haven't.
Use 1Password to change their password for the affected site and for any accounts where they've reused a compromised password.
Use Watchtower to find security problems with their items in 1Password and turn on notifications to get alerted of new data breaches.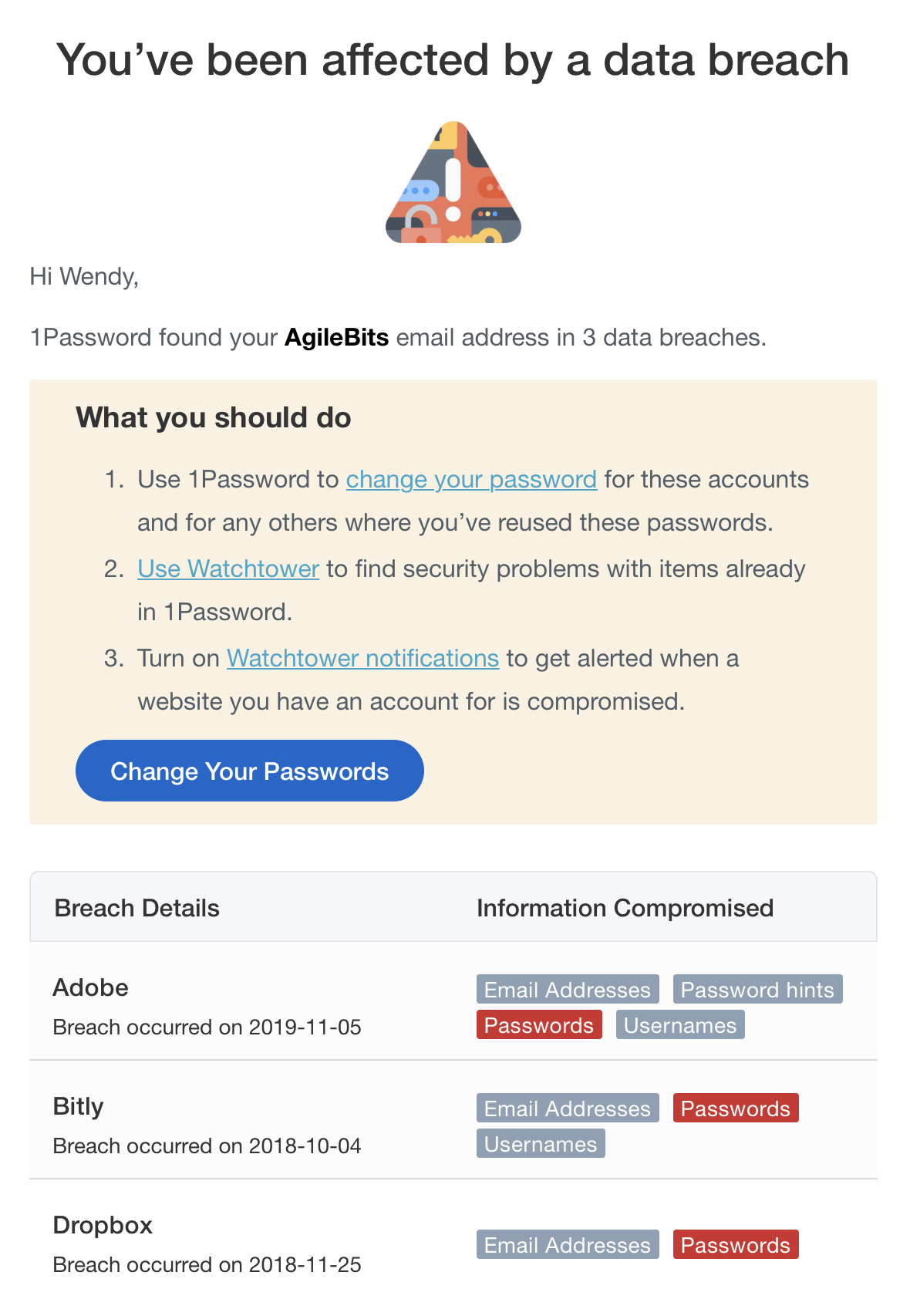 Learn more