Learn how to use the Activity Log to monitor events that happen on your team.
With 1Password Business, owners and administrators can view the Activity Log. Other team members can also view the Activity Log if they belong to a group that has the View Administrative Sidebar permission.
Sign in to your account on 1Password.com and click Activity Log in the sidebar to get started.
Read the Activity Log
The Activity Log lists actions performed by team members, starting with the most recent:
Activity. The type of action and the names of any team members, vaults, or groups involved. Click a team member, vault, or group to view its details page which includes its activities.
Date. When the action was performed.
Actor. The team member who performed the action. Click to view their details page which includes their activities.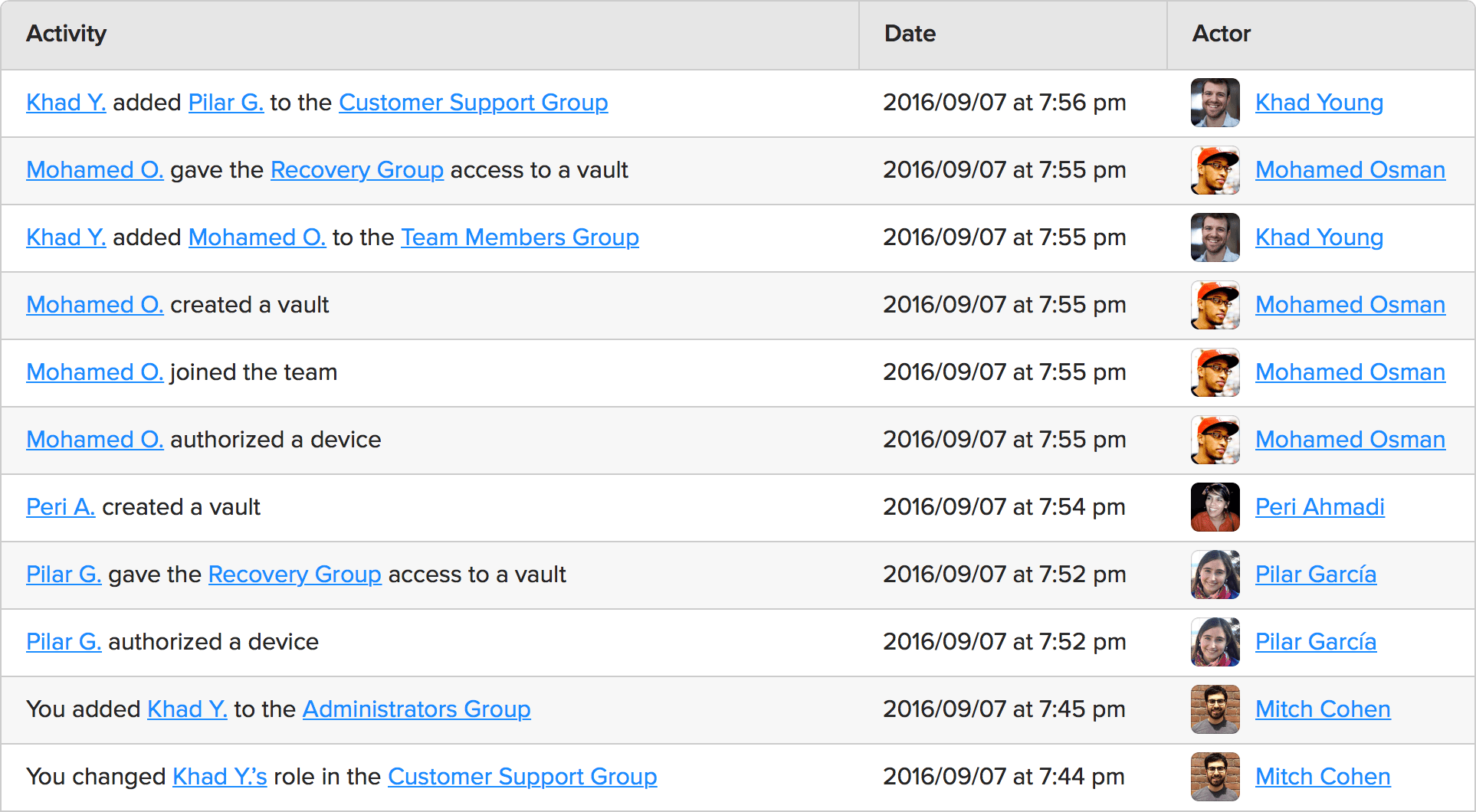 Filter the Activity Log
To narrow the scope of activities shown in the log, use one or more filters:
To only view actions performed on or before a specific date, click Jump to Date and select a date.
To only view certain types of actions, click Filter by Type, select one or more actions, and click Done. If none are selected, all types of actions will be listed.
To only view actions performed by a certain team member, click Filter by Actor and select the team member.
To remove a filter, click
next to its name.
Action types
The Activity Log includes the following types of actions:
Account Changes. Updating (changing team settings) and confirming.
Billing. Adding and removing credit cards, updating subscriptions.
Devices. Authorizing and removing devices.
Email Changes. Beginning and completing email changes for team members.
File Uploads. Creating (adding documents).
Group Access. Adding, changing, and removing access to vaults.
Groups. Creating and deleting, adding and removing team members, changing roles, and updating group details.
Integrations. Creating and deleting, adding and removing tokens, when a service account accesses an item.
Invitations. Inviting team members and guests.
Linked Family Accounts. Generating codes, linking and unlinking family accounts.
Shared items. Sharing items.
User Access. Adding, changing, and removing access to vaults and integrations.
Users. Inviting, joining, and confirming.
Vault Items. Updating (creating, editing, archiving, and deleting items).
Vaults. Creating and deleting, adding and removing to a Connect Instance.
If an action has

next to it in the activity log, click to open more details.
Learn more